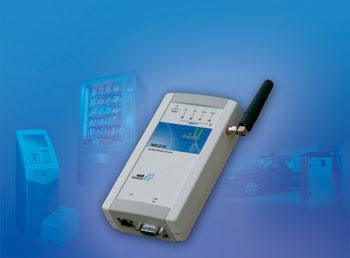 NB2210 povezuje Ethernet orijentirane uređaje na Internet putem GSM/GPRS/EDGE mobilne mreže čineći ih dostupnim od kamo god željeli. NB2210 omogućuje svu standardnu funkcionalnost jednog rutera u smislu
povezivanja Ethernet odnosno Intranet mrežnih okruženja. Posebna prednost ovog rješenja je u transparentnoj, "full-duplex" komunikaciji putem IP protokola. S obzirom na činjenicu da NB2210 može zamjeniti nekoliko modema, očita je
njegova ekonomičnost.

Posebna, jedinstvena karakteristika ovog uređaja su 2 digitalna ulaza odnosno 2 digitalna izlaza koja omogućuju upravljanje vanjskim uređajima kao i primanje informacija s vanjskih senzora bez potrebe za dodatnim signalnim sklopovima.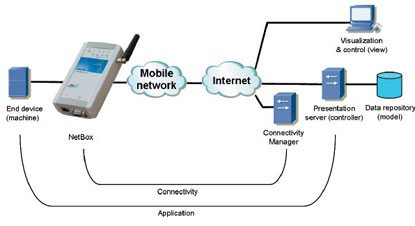 Remote management
Security and video surveillance
Telemetry and monitoring
Vending and retail / EPOS
Customer specific solutions
GSM (CSD, GPRS, EDGE) access router
Connection «keep alive» compatible with NetModule Connectivity Manager
Dynamic DNS client compatible with NetModule Connectivity Manager
SSL/TLS-based VPN client (OpenVPN)
Network Address Port Translation (NAPT)
DNS Proxy
Web based management
SNMP V2c/V3 agent, MIB-II
Tool supported Firmware update
Quad-Band GSM (850 / 900 / 1800 / 1900 )
Mobile station class B
Data transfer EDGE (E-GPRS): Multi-slot Class 10, Coding schemes 1-9,
Up to 236kbps downlink (4 slots) and 59kbps uplink (1 slot)
Data transfer (GPRS): Multi-slot Class 12, Coding schemes 1-4
Up to 85kbps downlink (4 slots) and 21kbps uplink (1 slot)
Impedance: 50 Ohm
Plug: SMA female
Input voltage: 12V DC to 28V DC
Power consumption (1 port Ethernet):
- No transmission: 2.5 W
- Data transmission: 5 W
  temp.     0°C to +55°C operating; -20°C to +70°C storage
  humidity. 5 to 80% (non condensing, Pollution Degree 2)
154mm x 84mm x 38mm, Weight: 300g
Desktop, wall or DIN rail mounting
Interface 1 Ethernet 10/100BaseTX
Serial Interface:
1 x RS232 full-featured DCE interface or half-duplex RS485
Digital I/O:
2 digital inputs
- Maximum input voltage 40 Vdc
- Minimum transition voltage (set): 7.2 Vdc
- Maximum neutral voltage (not set): 5.6 Vdc
- Insulation 2500 Vrms
Note: A negative input voltage is not recognized.
2 relay output
- Limiting continuous current: 1 A
- Maximum swichting voltage 60 VDC, 42 VAC (Vrms)
- Maximum switching capacity: 60 W
- Insulation 1500 Vrms
Za dodatne informacije molimo kontaktirajte odjel Prodaje.
SAZNAJTE VIŠE O OVIM PROIZVODIMA